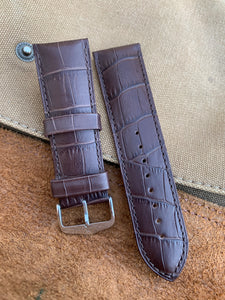 Nice vintage watches need nice straps!
HIRSCH - The bracelet since 1765
Object nr: A137
Model: HIRSCH "Duke"
Condition: New
Size: 26mm/24mm
Lenght: 120mm/78mm (without buckle: steel)
Colour: Brown
Upper Layer: Alligator-Embossed Italian Calfskin
Lower Layer: Softglove leather lining
We accept VISA, Mastercard and payment through PayPal. Please note that there will be an additional charge of 3% when choosing payment by PayPal.